Invitation to Participants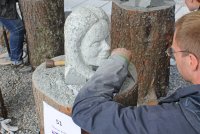 Present your skills and knowledge in a competitive atmosphere.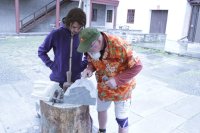 Meet colleagues from all over the world and make friends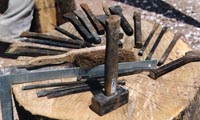 Bring your own tools - and an idea, of course...
Are you an apprentice, a qualified stonemason, a stone carver, a master mason or a sculptor? Take advantage of the European Stone Festival to enjoy an inspiring atmosphere, meet colleagues and present yourself and your skills to a wide audience.
The European Stone Festival 2023 in Salzburg will be a great experience - simply register online if you would like to take part.
Date:
02 – 04 June 2023
Location:
Austria, Salzburg Kapitelplatz
Participating countries:
An international event
Participants:
Apprentices, qualified stonemasons, stone carvers, master masons and sculptors.
Task:
To carve a piece in sandstone (approx. 16 hours). The material will be provided. Look at The Task for this year's theme and for the dimensions of the stone. Each participant is expected to prepare either sketches or a model of their design before the festival in order to give the visitors a better insight into how a piece of work is realised.
Remember to bring your own tools!
Fee:
€30.00 entry fee due from apprentices
€55.00 entry fee due from qualified masons/stone carvers and master masons and sculptors
Your registration will not be confirmed until you have transferred the entry fee to the following bank account
Bank details:
Steinzentrum Hallein
IBAN: AT23 3502 2000 0501 1002
BIC: RVSAAT2S022
Reference line on your bank transfer Stone Festival 202
The entry fee includes meals on Saturday lunchtime and evening and Sunday lunchtime and free water for each participant.
Closing date for registration:
16 April 2023
Your registration is not binding until you have transferred your entry fee.
Are you interested? Then apply online now!

Attention:
There is no sportshall available for participants this year. Participants are asked to book their own rooms at the youth hostel where a contingent of rooms has been reserved by the organization team. A link for rooms will be here or here. Deadline for booking is 16. of April
Participants' companions as well as festival visitors can find accommodation at a wide range of Salzburg hotels. A contingent of rooms been reserved. There are two Hotels: Arcotel Castellani**** and Motel One Mirabel.
Supporting programme:
The Festival is attractive for visitors, offering a varied supporting programme together with the opportunity to look over the shoulders of the stonemasons and carvers and gain an insight into the profession of the stonemason and the stone carver.
See the Programme page for regular updates.
Contact:
Steinzentrum Hallein
Salzachtalstraße 24
5400 Hallein, Austria
Phone: +43/6245/81274
email: office**at**steinzentrum.org