Supporting Festival Programme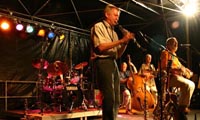 Es gibt viel zu sehen: Kunst, Musik, Essen & Trinken...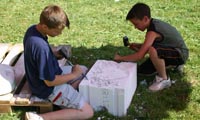 Mitmach-Aktionen, Infostände und Präsentationen: Die ganze Stein-Vielfalt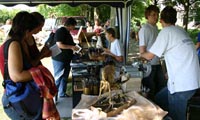 Kommen Sie zum Stein-Festival und lassen Sie sich inspirieren...
First and foremost, the European Stone Festival revolves around the skills of the young stonemasons and stone carvers from all over Europe.
There will be many other attractions on the festival site to emphasize the character of the festival and offer a varied programme to the general public.
This programme, including music and exhibitions, will turn the Kapitelplatz into an art and entertainment arena from 2nd to 4 th June 2023.
These are some of a wide range of activities which have already been planned:
Parallel to the work in the Kapitelplatz, Creativity in stone - a modelling workshop for visitors of all ages.
Guided tours at the Salzburg Museum are on offer.
Information on guided tours offered during the festival are available at the festival office.
A detailed map of the festival site is here.