Location & Accommodation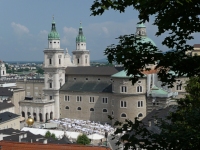 Salzburg, Austria
The Kapitelplatz, right next to the cathedral in the centre of town
In 2023 the European Stone Festival will be held from 2 nd – 4 th June in Salzbourg.
The Kapitelplatz is situated in the centre of Salzbourg and is easily accessible by public transport to the centre of Salzbourg making it the ideal location for the festival.
At the festival there will be live music performed on stage. At the same time, the European Stone Festival site is in the historic city centre and the Cathedral, making it attractive for all our visitors from near and far.
A detailed map of the festival site is here.
Accommodation for participants
Attention: There is no sportshall available for participants this year.
Participants are asked to book their own rooms at the youth hostel where a contingent of rooms has been reserved by the organization team. A link for rooms will be online here
Booking available till 16. April 2023
Please book early because Salzburg is extremely busy in June.
Junges Hotel Eduard-Heinrich-Haus
Webseite: heinrichhaus.hostel-salzburg.at/
Booking code: STEINFESTIVAL
at Eduard-Heinrich-Haus
Tel. 0043 662 625976
Mail: heinrichhaus@hostel-salzburg.at
Rooms for 4 -6 Persons with shower and WC at the price of € 37,00
Price per person and day, including breakfast and bed linen
(If you would like to stay on your own in a room please say so.)
Gästehaus im Priesterseminar
Website: gaestehaus-priesterseminar-salzburg.at/
Booking code: STEINFESTIVAL
At the Gästehaus im Priesterseminar
Tel. +43 662 877 495 10
Mail: gaestehaus@priesterseminar.kirchen.net
Room prices can be found on their website
(Double and family room are available)
You may also try the following:
www.aohostels.com/at/salzburg/
www.salzburg.info
Participants' companions as well as festival visitors can find accommodation at a wide range of Salzbourg hotels. You are advised to book as soon as possible.